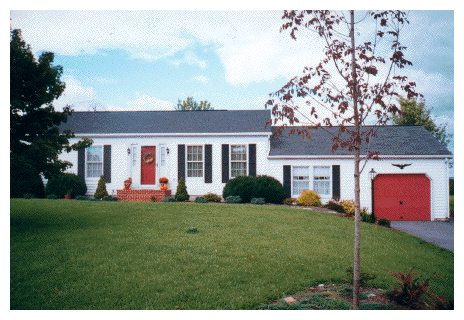 Last post I mentioned that I drive past my old Church everyday on the way to the bus stop. Well the corner that I get the bus is basically the same street I grew up on.
I used to drive down that road every single day.
It's weird the stuff that you feel and think when put in the situation.
After my parents divorced and then remarried my mom sold the house that I grew up in. I don't blame her, it was a 4 bedroom house with way too much space for one person. And I don't blame her new husband cause my dad built that house (literally from the ground up) and it would have to be weird to live there.
But it still sucks that she had to move. Many people get to return to the house they grew up in forever. My mom still gets to see the house she grew up in cause her parents still live there. My dad's parents only recently moved from the house where he spent many a year.
My wife gets to go back to the house where she spent many of her childhood years.
I am not mentioning all that to whine or complain that I don't but just to point out that it is somewhat common. Sure there are probably just as many (if not more) people who don't cause their parents moved but many people do.
It's just funny cause I will stand at the corner waiting for the bus and stare down the street and memories come rushing back. We used to walk that street to get to a local convenience store where we would regularly go for candy and soda during the summer. I delivered the afternoon paper on that street when I was 12. After I started driving that was the main way in and out of the neighborhood I lived in so I was driving on it just about everyday.
Actually for about 6 or so months I would drive down that road after work cause it was the easiest way to leave my parking space. I would drive down just like I had 100s of times before. I could actually see my old house in the distance and then I would turn and head home to my current house.
I have only actually driven by the house maybe a handful of times since my mom moved. I really do miss so much about it. And there really isn't one particular thing that I miss more than anything else. I would probably say the basement though if I had to pick something.
The basement was finished and was where us kids spent most of our free time. At first there was just board games and toys, then a tv and video games, then a computer, then a ping pong table and air hockey table, and then finally a pool table. There was always something to do down there and I loved it. Hell it is probably why I am finishing the basement I have now. Although I intend to use that room for myself (for now) I am sure my kids will take over in the coming years.
I have not eliminated the idea of moving at some point in the next 10-15 years. I would like more space and some other ammenities that aren't currently provided. But the boss (also known as my wife) feels that we should stay because of our children. She wants to be in the same house forever so that our kids can come back to the house as they grow.
And the more I think about it the more I agree. I think that is something that I would absolutely provide for my kids. Cause like I said before....I wish I had that myself.
What do you think? Do you get to go back to the house you grew up in? Would you miss it if you couldn't? If you can't, do you wish you could?